#LGBT: Nigerian police officer, Dolapo Badmos tells gays: Leave country or face prosecution
A high-ranking Nigerian policewoman has warned gay people living in the country to leave or risk criminal prosecution.
Dolapo Badmos, a Chief Superintendent and spokeswoman for the Lagos State Police Command, made the comments on her personal Instagram account, which is set to private and has 125,000 followers.
"If you're homosexually inclined, Nigeria is not a place for you," Badmos wrote last week.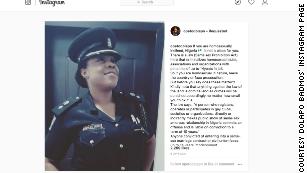 Culled From
CNN
.